2023-2024 PRESCHOOL PROGRAM
Developmentally appropriate state curriculum as well as STEM and fun activities that include YMCA preschool swimming lessons through certified swim instructors, dramatic play, cooking, field trips, and more! The program also includes music lessons from an experienced music instructor with two performances a year and many more opportunities to learn and grow. The teaching staff is certified and qualified by the Massachusetts Department of Early Education and Care.
The YMCA of Greater Westfield is proud to offer an experienced staff that is Department of Early Education and Care qualified. Teachers are chosen on the basis of skill and ability, background check (CON check), First Aid, CPR, and Child Abuse Prevention training. Above all our teachers have one thing in common, a love for working with children.
The nursery school program is licensed by the Massachusetts Department of Early Education and Care.
Statement of Purpose
The Westfield YMCA Preschool provides experiences in which preschool children will learn through play. The children will find security, support, and satisfaction with patient and consistent teachers. They will use equipment and furnishings geared to size and materials to encourage creativity. They will have opportunities to share, take turns and respect the rights of others. The children will develop a confident sense of self-worth and a lifelong love of learning that leaders to future academic success.
The goals of the Preschool program encourage children to:
Grow in independence

Develop self-confidence

Develop self-discipline

Increase their ability to listen and follow instructions

Learn to relate to other children and adults

Learn non-sexist human roles

Learn large and small motor skills

Learn to understand and control the physical world

Learn new words and develop language skills

Learn to give and share

Develop positive feelings about the world and its people

Develop positive feelings about school
---
To set up a tour or for additional information contact:
Michelle Anamisis
Youth Development Director
manamisis@westfieldymca.org
P: 413 568 8631 ext. 306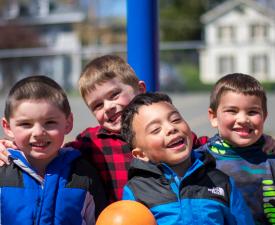 Registration Information and Pricing