Get Involved with Our Cause
The generosity of others is at the core of our existence. It is only through the support of our volunteers and public and private donors that we are able to give back to the communities we serve.
Be Involved
As the leading nonprofit for youth development, healthy living and social responsibility, the Y works side-by-side with our neighbors every day to make sure that everyone, regardless of age, income or background, has the opportunity to learn, grow and thrive. To do our important work, the Y relies on support from members, donors, volunteers and community leaders.
When you are involved with the Y, you help bring about lasting personal and social change. Whether you want to nurture the potential of children and teens, improve your or your family's health and well-being, or give back and support your neighbors, your involvement with the Y will positively impact those in your community.
Join the Y: Be a part of a cause for strengthening community that is committed every day to helping you and your kids learn, grow and thrive.
Give to the Y: Donate vital financial resources for nurturing the potential of kids, improving the nation's health and well-being, and giving back and supporting our neighbors.
Volunteer at the Y: Take an active role in bringing about meaningful, enduring change right in your own neighborhood.
Advocate with the Y: Address the nation's most pressing social issues, with a nonprofit that has the long-standing track record and on-the-ground presence to not just promise, but deliver, lasting personal and social change.
---
The YMCA of Greater Westfield is continually looking for talented, enthusiastic people with a passion for strengthening the community by helping others.
FOR EMPLOYMENT APPLICATION PLEASE CLICK HERE - LINK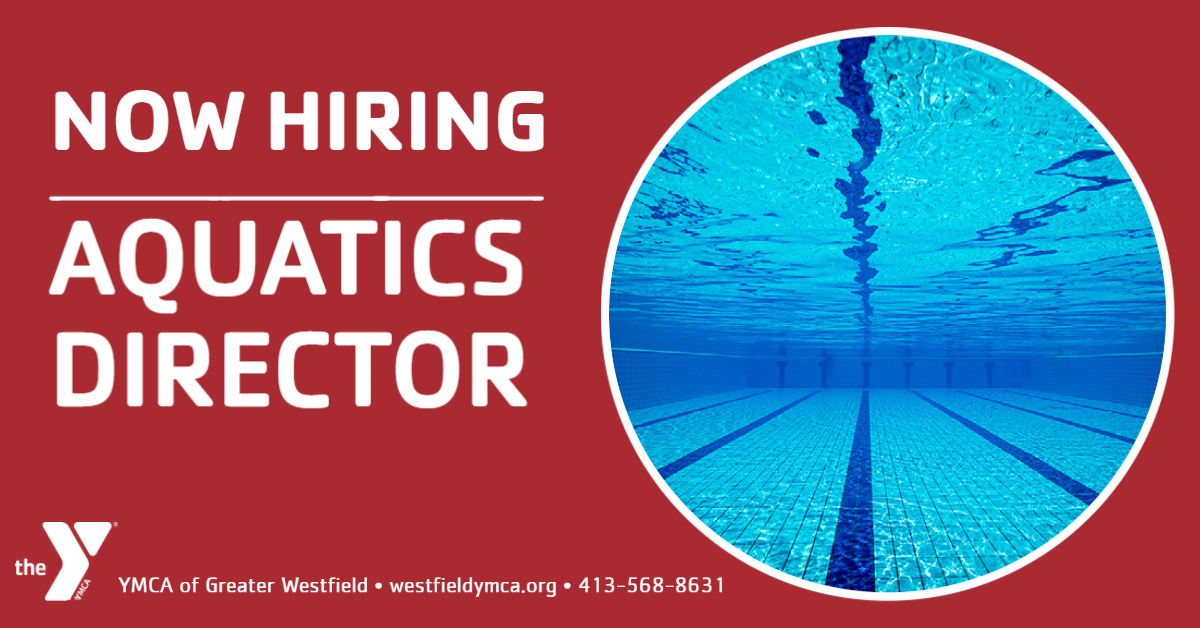 Under the direction of the CEO the Aquatics Director oversees the operations of the Westfield YMCA Aquatics Programming. The Aquatics Director is responsible for developing, organizing, and implementing high quality member-focused aquatics programs. The current aquatics program lineup includes swim lessons, swim team, lifeguarding classes, water fitness classes as well as a day camp aquatics program.
As a member of the leadership team responsibilities include membership development, risk management, building supervision, annual giving campaigns, staffing committees as designated, financial development, and attending YMCA functions. This position is responsible for modeling, teaching and exemplifying the qualities and values, which are inherent to the mission and purpose of the YMCA.
ESSENTIAL FUNCTIONS:
Organization, administration, program development, promotion and daily operation of aquatics programs. Ensures compliance with state regulations and Y-USA standards for aquatics.
Oversees all competitive swimming program activities to meet YMCA objectives. Supervises the Head Swim Team Coach.
Establishes new activities and expands current aquatics programs within the community in accordance with YMCA standards.
Ensures a culture of safety. Leads practices and procedures in accordance with regulations, national safety and training standards, insurance and Y-USA guidelines
Actively market, develop, and promote the swim team, swim lessons and other assigned programs
Recruits, hires, trains and directs lifeguard and swim instructors. Reviews and evaluates staff performance on a daily, weekly and yearly basis. Develops strategies to motivate staff and achieve goals. Ensures records of staff certifications are current and complete.
Schedule and organize in-service trainings to ensure staff are certified in required areas.
Ensures high quality member-focused programs through innovative program development, evaluations, and ongoing training of staff.
Develops and controls department budgets related to the position.
Ensure pool licensing requirements are met and a risk management policy and protocol are in place and followed.
Conducts and ensures proper maintenance of pools. Secures and schedules pool facilities. Maintains accurate records of pool chemical levels and facility maintenance.
Develops, implements, and manages operating plans to promote program and/or membership growth for the YMCA. Executes strategies to ensure that members and/or program participants connect with one another and connect with the YMCA.
Assist as needed with YMCA operations, building coverage, meetings and special events.
Achieve retention goals, as well as growth goals, for department income and special events.
Provides leadership and support to the annual fundraising campaign and volunteer committees/boards as assigned. Assist in special events.
Develops and maintains collaborative relationships with community organizations and other entities associated with the swim team
Models relationship-building skills (including Listen First) in all interactions. Responds to all member and community inquiries and complaints in timely manner.
Performs other duties as assigned by the CEO.
QUALIFICATIONS:
Bachelor's degree in related field or equivalent preferred.
Lifeguard Certification
Swim Instructor Certification Preferred
2 – 3 years of aquatics experience
Requirements within 30 days of hire include: completion of: Child Abuse Prevention for Supervisory Staff; CPR; First Aid; AED; Blood borne Pathogens,
Obtain CPO (Certified Pool Operator) certification within 6 months of employment.
Maintain certification in field as required for YMCA.
YMCA Team Leader or Multi-team/Branch Leader certification preferred.
Must possess excellent written and verbal skills and be able to communicate effectively with swimmers, parents and coaches.
Experience working with parents and program volunteers.
Demonstrate an enthusiastic, dynamic presence within the YMCA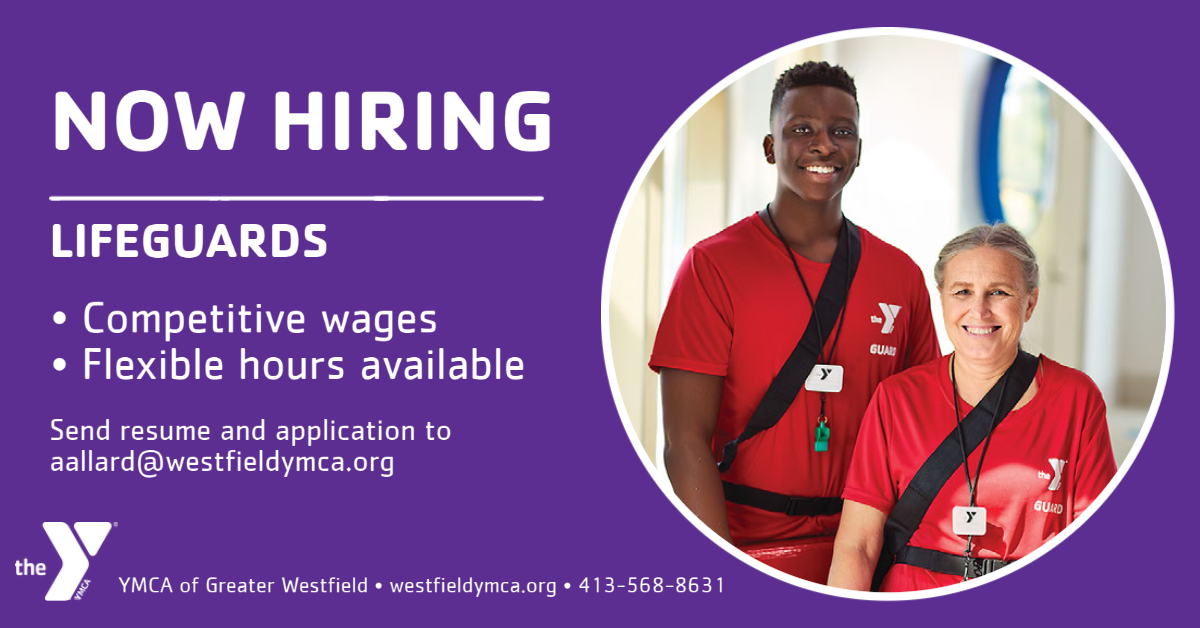 Position Summary:
Maintains safe swimming conditions in the pool, deck, and surrounding areas. Creates a safe and positive atmosphere that promotes member safety and engagement in accordance with YMCA policies and procedures.
For application submit resume and application to aallard@westfieldymca.org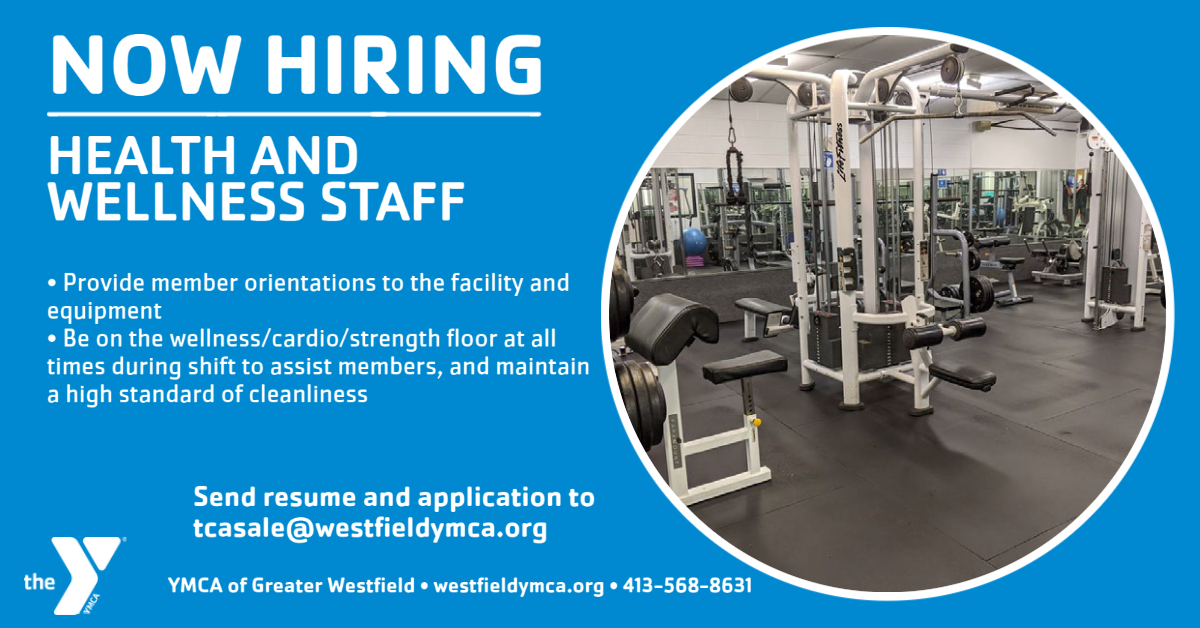 Position Summary:
Wellness Staff is to build relationships with and between members, educate healthy habits and goals. While maintaining the highest standard of safety and cleanliness.
For application submit resume and application to tcasale@westfieldymca.org