FOR EMPLOYMENT APPLICATION PLEASE CLICK HERE - LINK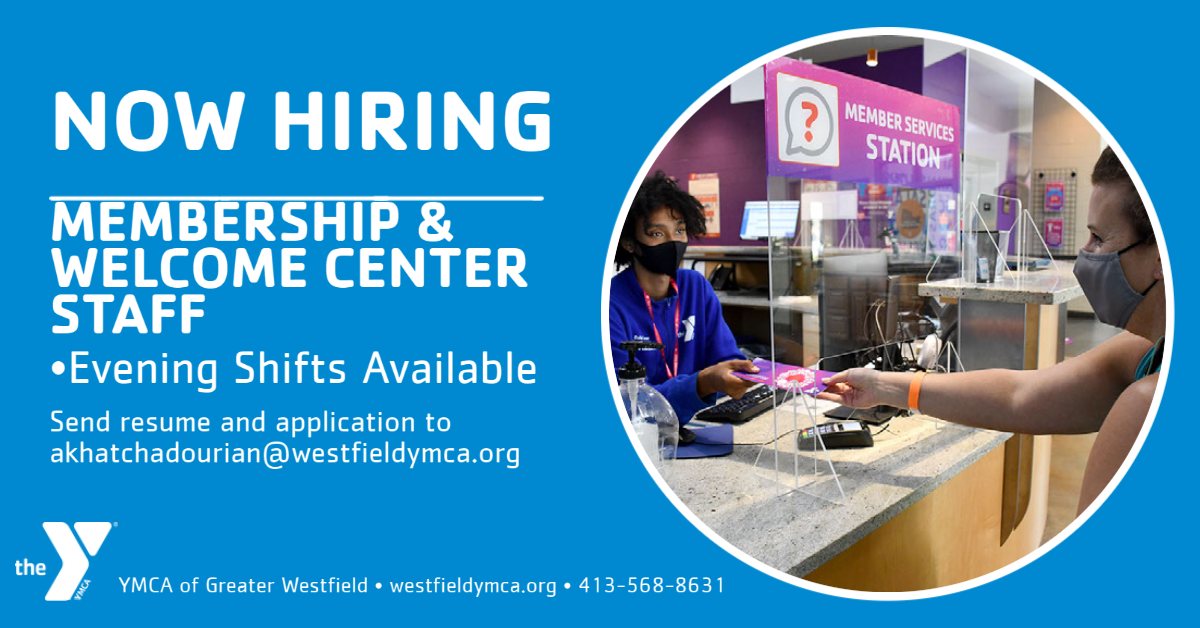 Please send application and inquiries to Akhatchadourian@westfieldymca.org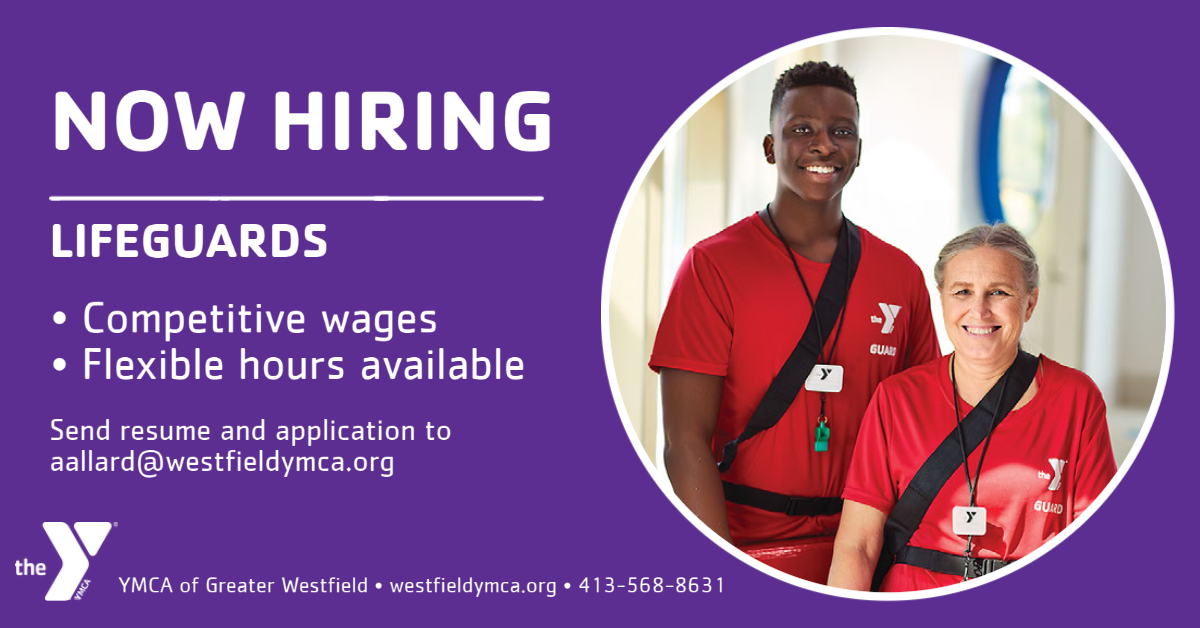 Position Summary:
Maintains safe swimming conditions in the pool, deck, and surrounding areas. Creates a safe and positive atmosphere that promotes member safety and engagement in accordance with YMCA policies and procedures.
Essential Functions:
Maintains constant surveillance of the pool area.

Knows/reviews all emergency procedures and responds to emergency situations immediately in accordance with YMCA policies and procedures. Completes related reports as required.

Maintains effective relationships with the members, participants and other staff.

Knows, understands, and consistently applies safety rules, policies and guidelines for the pool and aquatic area.

Maintains accurate records as required by the YMCA and/or the state Health Department code.

Perform equipment checks and ensure appropriate equipment is available as needed.

Check the pool for hazardous conditions when arriving.

Perform chemical testing at appropriate times of the day, as required, and takes appropriate action.

Attends all staff meetings and training as required.
Qualifications:
Certifications: CPR for the Professional Rescuer, AED, Basic First Aid certification.

Current YMCA Lifeguarding or Red Cross Lifeguarding and obtain YMCA Lifeguarding Certification.

Oxygen Administration certification

Ability to maintain certification-level of physical and mental readiness.

Must demonstrate lifeguard skills in accordance with YMCA standards.
Starting Rate for the position is $13.50/hour
For application submit resume and application to aallard@westfieldymca.org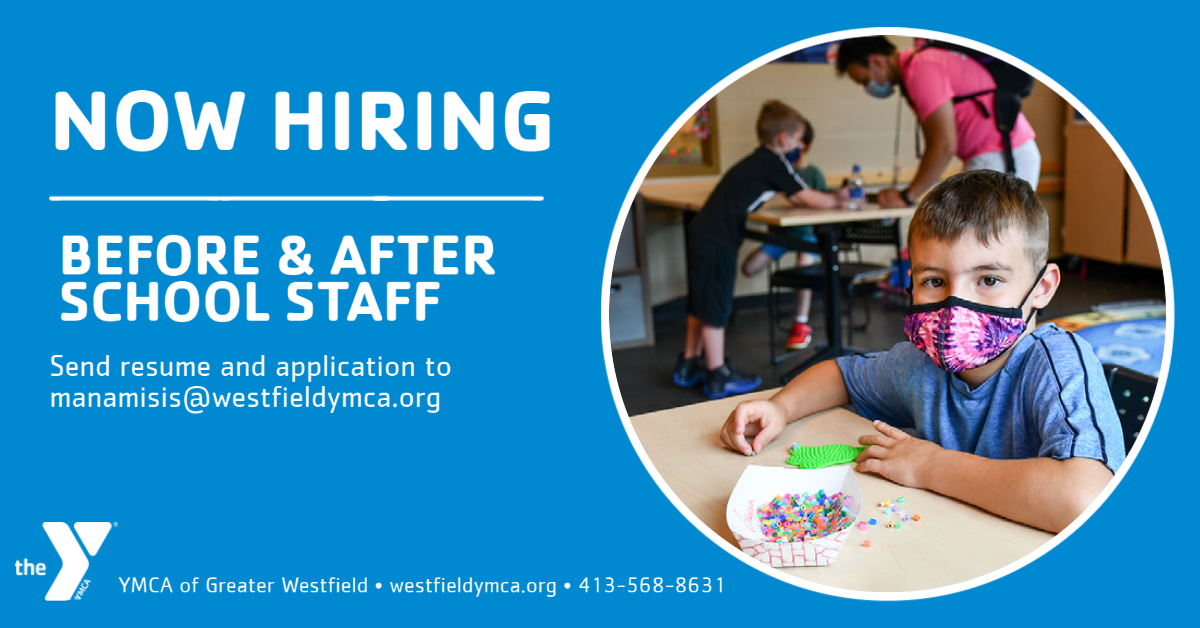 The Westfield YMCA is looking for staff for our before-school program. Hours available are 6:45am – 9:00am, Monday – Friday. Applicants must be 18 years old or older.
For an application please email Michelle Anamisis – manamisis@westfieldymca.org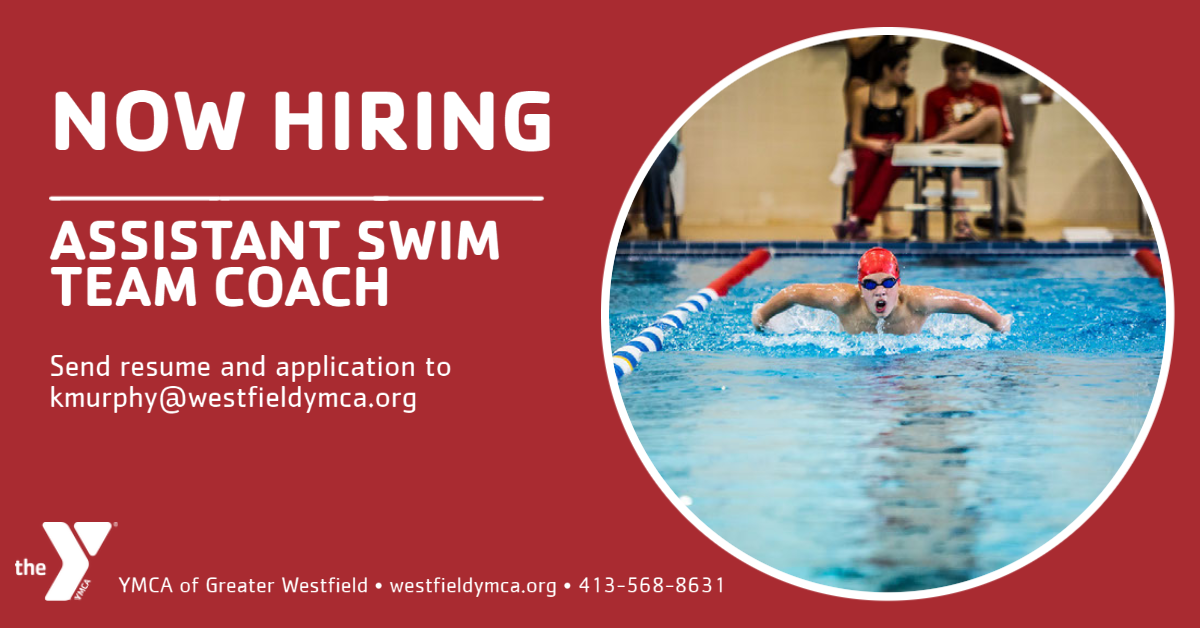 General Function:
Under the direction of the Head Swim Coach and in accordance with the goals and objectives of the YMCA of Greater Westfield, the Assistant Swim Coach is responsible for assisting the Head Swim Coach with managing the YMCA/USA swim team in accordance with the rules and regulations set forth by YMCA of the USA, USA Swimming, and under the pool rules at the YMCA of Greater Westfield. The Assistant Swim Coach must role model the YMCA values of caring, honesty, respect and responsibility and work daily to develop personal and meaningful relationships with members, staff, and guests.
Position Requirements:
Must have a competitive swimming background. Must have an understanding of how children learn, while having the ability to communicate clearly and directly with them. Must have communication skills to communicate effectively and efficiently with the Head Coach, other YMCA staff, and the swim team parents. Must maintain certifications in Lifeguarding, CPR with AED and First Aid, or become certified within a reasonable amount of time of starting the job.
Essential Functions:
1. Build meaningful relationships with members and participants; help members connect with one another and to the YMCA.
2. Work daily to nurture the potential of youth and teens; help people improve their well-being; and provide opportunities for people to give back and support their neighbors.
3. Promote the mission of the YMCA of Greater Westfield and core values of caring, honesty, respect, and responsibility in all job-related functions.
4. Lead practices of the group(s) given by the Head Coach with care and excitement.
5. Ensure the safety of swimmers at the practice by following proper precautions and regulations.
6. Give swimmers knowledge to understand and master stokes allowing for movement up through the swim team groups.
7. Be on deck before swimmers begin practice, to greet swimmers and parents.
8. Help set up and run swim meets as deemed necessary by the Head Coach.
9. Communicate effectively with the Head Coach about daily practice procedures, emergencies, and information regarding swimmers and swim team well being.
10.Attend any and all team meeting, get together, as deemed necessary by the Head Coach.
11. Provide corrective feedback that will enhance swimmers' techniques.
12. Maintain structure and discipline within a group setting, while encouraging and promoting student participation in as positive manner.
13. Engage parents and cultivate relationships to create a collaborative swim team environment
14.Conduct self in a professional, friendly, helpful, courteous and diplomatic manner.
15. Follow YMCA policies and procedures; respond to emergency situations.
16.Any additional tasks and/or duties as assigned by Aquatics Director/Head Coach.
Send Resume and Cover Letter to Head Swim Team Coach Kyle Murphy - kmurphy@westfieldymca.org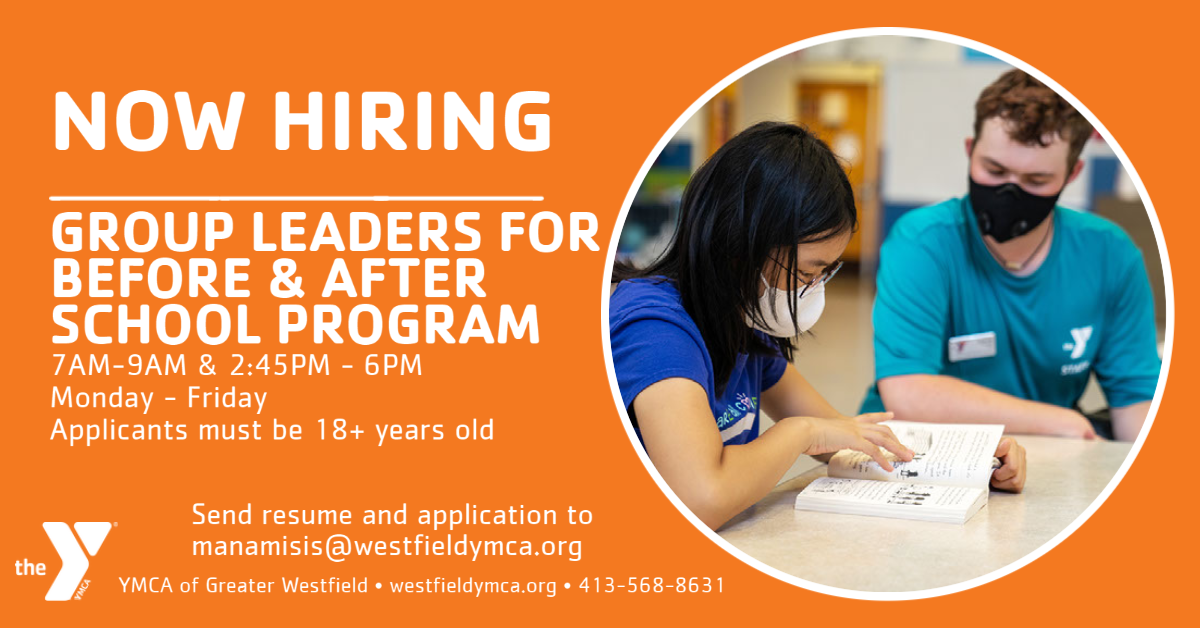 The Group Leader is responsible for the daily supervision of before and/or after-school programs with participants grades K-8. S/he is responsible for assisting the site coordinator in the planning, development, and implementation of all after-school program. The Group Leader guides the academic and social development of children; ensuring a safe, enriching, and healthy learning environment. Group Leaders use a variety of resources, provided by the After-School Site Director to introduce new skills throughout the execution of activities. To accomplish this, Group Leaders are required to participate in ongoing professional development and planning sessions with the Before and After-School Site Director on a scheduled basis.
DUTIES AND RESPONSIBILITIES
The Group Leader must have the competencies, skills, and proven leadership ability to successfully carry out the YMCA mission, goals, and visions for serving the community. The Group Leader will be responsible for the following:
Ensures the safety and engagement of children in assigned group.

Plans and use the STEM framework to facilitate purposeful and engaging activities and group projects that compliments the program's thematic or project-based agenda.

Provide assistance with homework and encourage academic progress.

Follows program lesson plans and implementation plan in a developmentally appropriate manner, meeting the individual physical, social, emotional, and intellectual needs of the participants.

Provides careful, attentive supervision, alert at all times.

Serves as a positive role model, demonstrates professional behavior and understand positive youth development approaches to the academic and social development of youth.

Facilitates a program environment that invites exploration, promotes positive play, and welcomes children.

Promotes a team concept through a positive approach to supervision, communication, and interactions with others. Maintains on-going communication with supervisor.

Maintain accurate classroom records as assigned and according to program requirements.

Communicates regularly with parents; attends parent/family events as designated by supervisor.

Demonstrates a working knowledge of YMCA mission, purpose and goals, childcare policies and YMCA standards; ensures the program meets the highest standards of excellence
For an application please email resume to Michelle Anamisis – manamisis@westfieldymca.org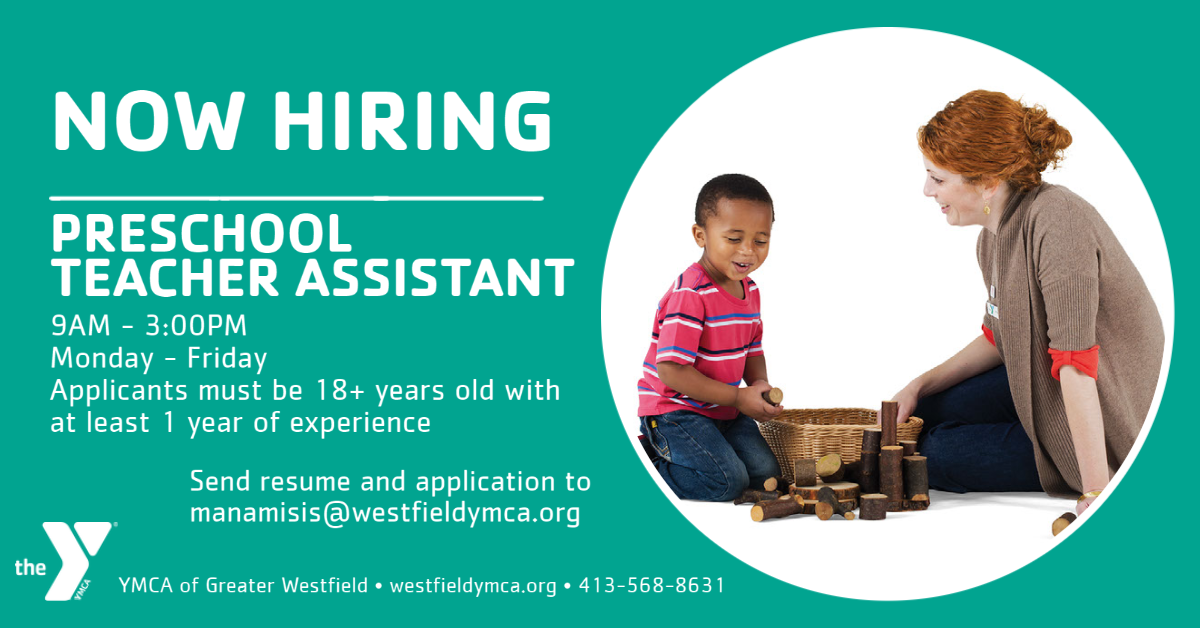 A Teacher Assistant in the Preschool program will have experience working with young children. Baby sitting, camp and early childhood programs are all considered experience. A course in Child Growth and Development or Child Psychology is required. A Teacher Assistant will receive regular supervision by a Lead Teacher or qualified staff member.
A Teacher Assistant must pass a CORI, SORI, DCF check Finger Printing.
A Teacher Assistant must be trained in First Aid and retrained every 2 years. The assistant must be trained yearly in CPR. The Department of Early Education & Care must approve the trainings.
A Teacher Assistant must have a physical exam, including a statement by the physician as to whether the teacher has any limitations working with children and an updated physical every two years thereafter. Also required evidence of immunity for measles, mumps and rubella plus a negative Mantoux TB test in accordance with current Department Health regulations.
An assistant in the Preschool will assist the Teacher or Lead Teacher in the classroom with the following:
Reading stories
Interacting with children during free play
Cleaning tables
Curriculum preparation
Helping with outdoor clothing
Helping with toileting
Setting up snack
Helping with classroom, playground and gym supervision
Encouraging listening skills, following directions and sharing
Encouraging social emotional growth and independence
Assist in the Swim Program
A Teacher Assistant will attend a two-hour staff meeting each month, attend in-service training workshops (20 hours per school year)..
For an application please email resume to Michelle Anamisis – manamisis@westfieldymca.org