2021 Camp Shepard Information
Costs

Extended Day
We will be running AM Extended Day (7:00am-8:30am) and PM Extended Day (4:30pm-6:00pm) for an additional charge. Parent Drop-Off (8:30am-9:00am) and Pick-Up (4:00pm-4:30pm) is available for no charge.
The Parent Drop-Off Time is 8:30am-9:00am.
The Parent Pick-Up Time is 4:00pm-4:30pm.
Please be advised that wait times may exist during drop-off/pick-up.
You must be registered in advance for Extended Day.
Extended Day Pricing
For Sessions 1-4:
$50/session for AM Extended Day
$50/session for PM Extended Day
For Session 5:
$25/week for AM Extended Day
$25/week for PM Extended Day
Child must be registered for AM Extended Day, PM Extended Day, Parent Drop-Off, or Parent Pick-Up.
YMCA of Greater Westfield – Camp Shepard reserves the right to charge the $5 fee to any parent/guardian who drops off their child before 8:30am and picks their child up after 4:30pm and IS NOT registered for these additional services.
Financial Aid
The financial aid form can be picked up at the YMCA of Greater Westfield's front desk. Fill out the form and mail it in along with last year's tax return and/or four (4) of your last paystubs to document income for each household member. You must complete and turn in your financial aid paperwork before registering for camp.
Cancellations/Refunds
If the camp closes at any time due to the COVID- 19 virus, families will receive a prorated refund, including their deposit.
If a family decides to cancel their session up to one week out, the family will receive a full refund, including their deposit.
If a family cancels their session within the one week notice, a refund minus the deposit will be provided.
Group Sizes and Separation
Camp Shepard will be limited to 180 campers per session.
Per the Department of Health, camp groups will be 1 counselor for up to 10 campers for ages seven and above, and 1 counselor for every 5 campers ages six and below.
Camp Shepard plans on 15 campers per group accompanied by 2 counselors for ages seven and up, and 15 campers per group accompanied by 2 counselors and a volunteer for ages six and below.
In order to maintain social distancing between groups, all large group games and all-camp activities have been put on pause. Campers will not be able to interact with any campers not in their groups. Opening and closing assemblies will take place in group areas at Flag maintaining appropriate group separation.
---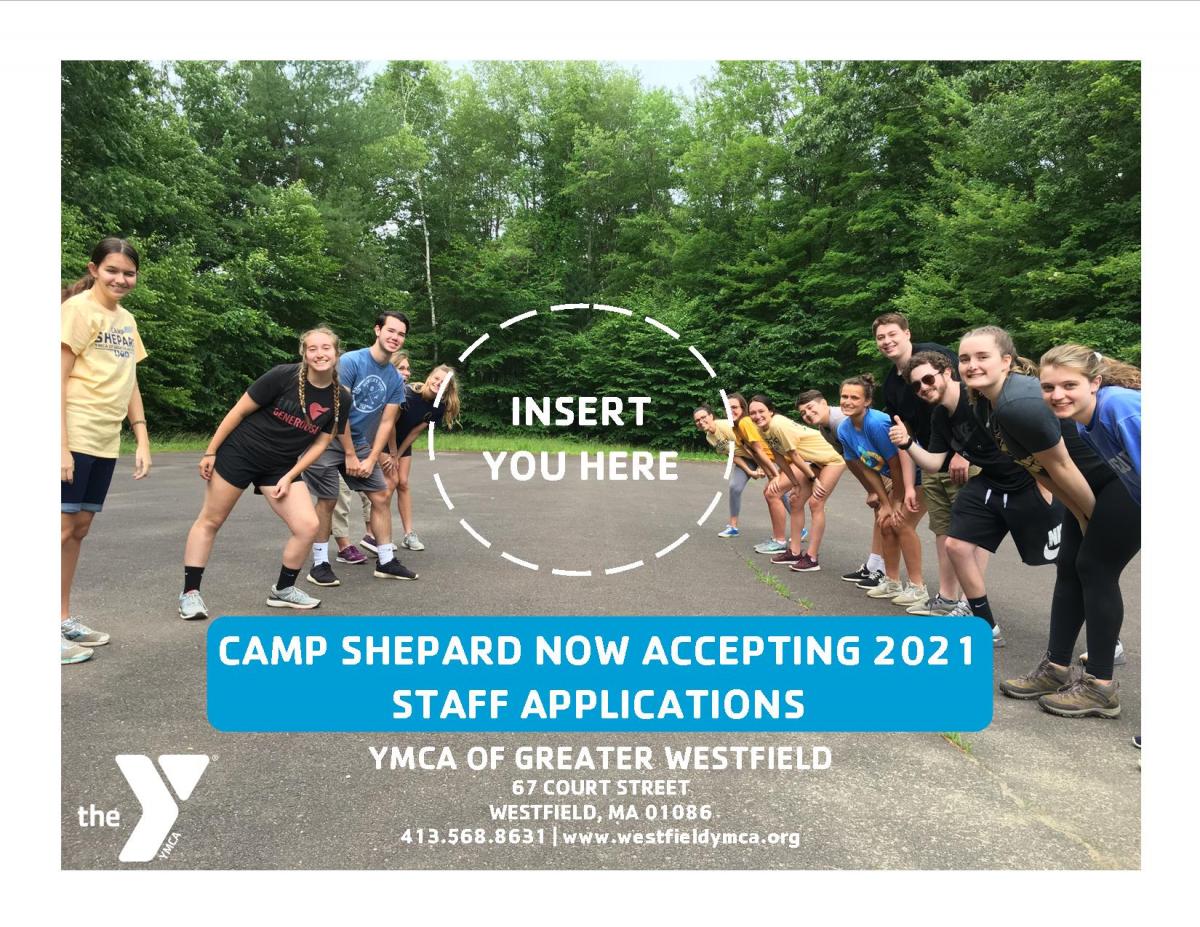 NOW HIRING FOR 2021 CAMP SEASON
Open Positions
Counselor: Supervises daily activities for 10 campers, assists camp skill staff and aquatics staff, instills a positive influence to each camper and serves as a role model.
Lifeguard: Responsible for monitoring pool activities, proper guard rotation and performing water rescues as necessary. Guards ensure that swimmers are well supervised in the pool and on deck at all times, and perform in accordance with established safety rules, regulations and policies.

Skill Staff: Camp Skill Staff are responsible for programming of their particular area. Must plan and implement activities for the entire camp, all ages and skill levels.
Skill Staff Areas include: Archery, Arts and Crafts, High/Low Ropes, Bike and Sports.

Teen Leadership: The Teen Director is responsible for coordinating, supervising, and facilitating the Co-Ed Teen Group at camp. The Teen Director will ensure that the program is safe, innovative, diverse, enjoyable, and serves to build character in the campers. Must be at least 20 years of age, demonstrates leadership abilities, and has a desire to work with and motivate teens.
If applying for Teen Leadership position, please prepare for interview:
• Enrichment program ideas that continue to meet the changing needs and demands of local teens.

Custodian: Ensures YMCA Camp Shepard is attractive and clean by completing all duties listed on the schedule and maintains upkeep of assigned areas and equipment. Duties include, cleaning bathrooms, offices, locker rooms, hallways and any other assigned areas by vacuuming, mopping, power washing, scrubbing and polishing. Clean, dust, and dry mop/vacuum areas daily. Clean and disinfect all sinks and drinking fountains. Empty trash in assigned areas, check and replenish paper towels, toilet paper, and hand sanitizer.
For additional information please contact Lauren Caprile - lcaprile@westfieldymca.org
---
YMCA Camp Shepard is a 105 acre outdoor center located at the foot of the Berskshire mountains and is owned/operated by the YMCA of Greater Westfield. We have a programming opportunity for everyone including our 9 week summer camp, school field trips, church group outings, corporate retreats, family reunions, and outdoor education classes.
Our Facility:
| | | |
| --- | --- | --- |
| 105 acres of land | 3 Pavilions | Chalet for full year use |
| In-ground swimming pool | Bath house w/ locker rooms | 45ft. rock climbing tower |
| Arts and crafts buidling | 2 low ropes courses | Archery range |
| Hiking trails | Mountain biking trails | Disc golf course |
| Camp sites with tent platforms | Babbling brook | Black top w/ basketball hoops |
| Adiorndack shelters | Ball field | Gaga ball pit |
| Garden | | |
Contact:
Lauren Caprile, Camp/Program Director
YMCA of Greater Westfield, Inc.
67 Court St, Westfield, MA 01085
P 413.568.8631 ext 322 F 413.572.3995
E lcaprile@westfieldymca.org
Host Events at Camp Shepard